Transfer news as of 11th May 2009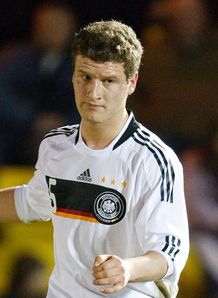 The season is not over, but rumours of transfers are circulating on the net about Everton. Top of the rumour list must be Portugal's Moutinho. £15 million pounds have been quoted as the potential fee. Apparently he has a Euro20 million release fee. He is bloody good though I do wonder why non of the big 4 clubs are linked to him?
Michael Owen is also courted by Everton. I think the whole world already knows that he is an Everton boyhood fan, as the papers repeats that all the time. He is injury prone and truth-be-told, he seems pass his best. If he joins us, we have 2 injury prone striker, in Saha and Owen. But maybe Moyes knows something we dont know? We'll see how that news transpires.
Personally, I feel we should re-adopt the wing system. The experiment with Simon Davies and Andy VDM failed, but we should consider Stuart Downing and David Bently. They would give us width and good crosses. Another winger is Morten Gamst Paderson of Blackburn; he is good down the left flank. Turkish Arda Turan would also be another exciting buy.
If Moyes buys wingers, Everton can convert Pienaar into a central midfield to compliment Arteta who would out till end of the year.  
But rumours aside, Everton has apparently confirmed 2 transfers (though both news have yet to appear on our official website):-
1. American Anton Peterlin playing in the Americanclub Ventura County. He is a defensive midfielder, and Ventura apparently plays in the so-called 4th division of US Soccer (as they call football there) league.
Dont know much about this player. But then again, how many of us knew about Tim Cahill before he joined Everton. 
2. Shkodran Mustafi (what a name) - a 16 year old German player. Apparently he is highly rated and his current German Club Hamburg is very upset to lose him to us. He was also part of the German U-17 which trashed England U-17 (which included our Jose Baxton) 4-0. He must be a good potential. But if you look at his photo above, do you think he really is 16 years old??
Who else will we buy?