Drama Deadline Day
Our transfer activity this window looks like this :-
In: James McCarthy (Wigan, £13m), Arouna Koné (Wigan, £6m), Joel Robles (Atletico Madrid, £2m), Antolín Alcaraz (Wigan, Free), Gerard Deulofeu (Barcelona, Loan), Romelu Lukaku (Chelsea, Loan), Gareth Barry (Manchester City, Loan).
Out: Marouane Fellaini (Manchester United, £27.5m), Victor Anichebe (WBA, £6m), Jake Bidwell (Brentford, Undisclosed), Jasper Johns (Sheffield United, Free), Conor McAleny (Brentford, Loan), Jan Mucha (Krylia Sovetov Samara, Free), Johan Hammer (Malmo, Free), Franciso Junior (Vitesse, Loan).
+++++++++++++++++++
We lost Fellaini on deadline day, but we were well compensated for his loss. €32.5million (27.5mPounds) is a lot of money. He was one of the better players we had and definitely a rising star in European football.
On that note, we must also thank Fellaini for his 5 years of awesome service. He will probably do well at MU.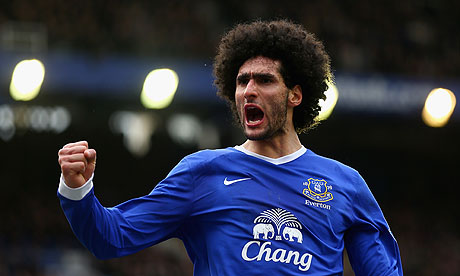 Goodbye Felli.
Last season, we lost Jack Rodwell and in all fairness, his loss was not badly felt by Everton. Fellaini's departure on the other hand is massive for Everton, but is soften by the arrival of Gareth Barry & James McCarthy. Both can play the midfield role well enough to compensate Fellaini's departure. And dont forget, we still have Barkley & Gibson, 2 formidable central midfielders. Osman is also our evergreen midfielder.
McCarthy & Barry, our 2 new Midfield Enforcers
Anichebe's departure was a surprise. He is a true Evertonian. Nonetheless, €7.09Million (6m Pounds) is one hell of a deal for a player who never really reached his true potential. Hopefully he
does not get injured too often. He will do well at WBA and we wish him the best.
Thank you Anichebe
But Anichebe's departure is replaced by another powerhouse striker in Lukaku. To say his loan transfer is a coup, is an understatement. Here is a talent ready to burst into the big scene of football. He looks like the next Drogba, maybe better. It will be a pleasure to see him wear the Everton colours for this season
Lukaku
However, the biggest "transfer" for Everton this window is holding on to Baines. He is without doubt, Everton's best player at this moment and he will continue to be the fulcrum of the team for the next few months.
Baines, STILL an Evertonian (for now)
We did well in this transfer window. We have been so used to non-activity under Moyes for so many years, then we have forgotten how it is like to be actually involved in so many transfers in one window.
Nonetheless, with the dust settling down, it is now time for the team to gel and start winning games. No use patting our back for good transfer deals if we don't convert this into victories.
Lets move on!
And to the new boys, welcome to Goodison Park.